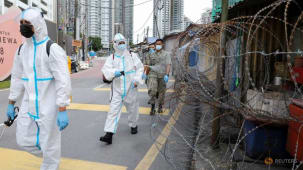 PARLIAMENT RECONVENES ON JUL 26
In spite of the measures in the Klang Valley, widespread testing has unveiled a high volume of COVID-19 cases. 
Daily caseload reached five figures for the first time on Jul 13 with 11,079 new infections, and more than half of the new cases were detected in the Klang Valley. 
Following the king's decree, the House of Representatives met for the first time in 2021. 
During the special parliamentary meeting from Jul 26, the prime minister and other ministers briefed the MPs on the country's COVID-19 response. 
In his presentation, Mr Muhyiddin said most Malaysian states are likely to move into phase four or the final phase of the country's COVID-19 exit strategy by October at the earliest. 
Mr Khairy Jamaluddin, coordinating minister for the immunisation programme, said 25.2 per cent of the adult population are fully vaccinated as of Jul 27. 
The meeting was supposed to last for five days, but was cut short to four days after COVID-19 cases were detected in the parliament.  
The state of emergency has ended on Aug 1 as scheduled. The motion to debate and annul the emergency ordinances would be tabled in the parliament in September, following different interpretations over the king's role in the process. 
On Aug 4, Malaysia hit another record high for new COVID-19 cases with 19,819 infections, taking the national total to 1,183,110. 
Daily fatalities also hit a new high at 257 on the same day. There have been more than 9,800 deaths so far.