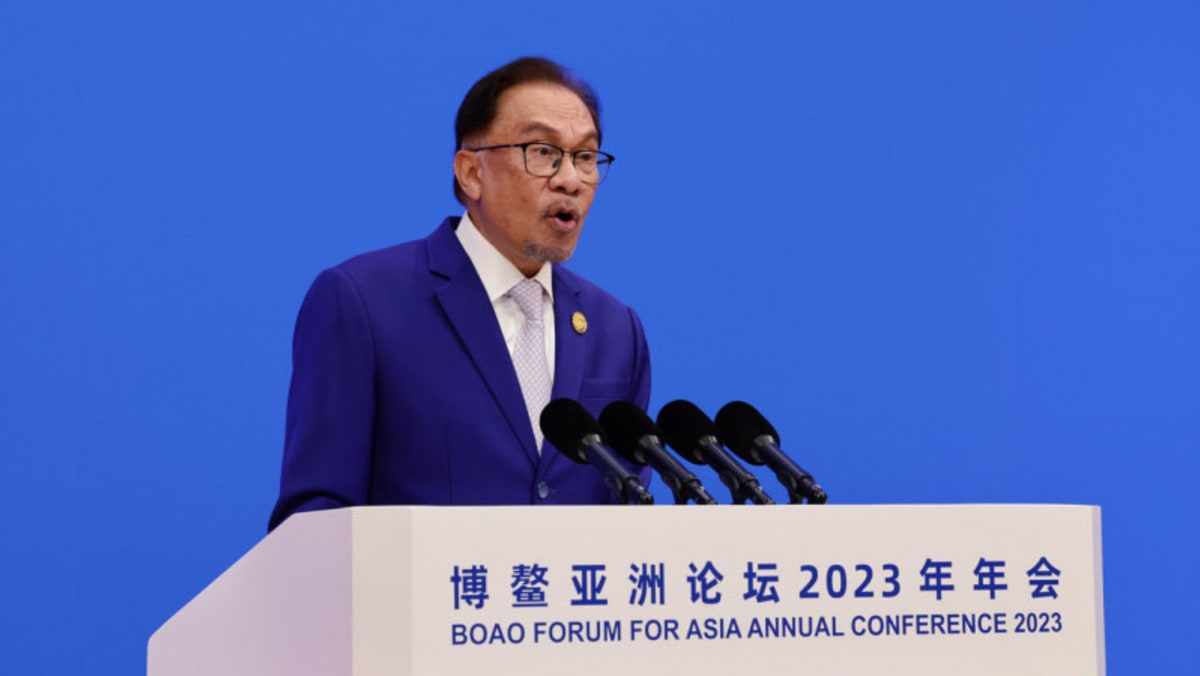 KUALA LUMPUR: Solidarity and cooperation are key for Asia to be more resilient and emerge stronger after COVID-19, Malaysia's Prime Minister Anwar Ibrahim said on Thursday (Mar 30) at the Boao Forum for Asia (BFA).
In his speech during a plenary session on the second day of his official visit to China, Mr Anwar said that Asia should cooperate closely, show solidarity with one another, fight to lessen inequality, advance social justice as well as raise the living standards for all. 
"Translating lofty ideals into practical reality, solidarity and cooperation is best exemplified in the realisation of the Belt and Road Initiative (BRI).
"With the pandemic behind us, we should try to regain its momentum," he was quoted as saying by The Star. 
In 2013, China's President Xi Jinping launched BRI with the goal of establishing commercial and infrastructure links between Asia, Europe and Africa. In 2021, Malaysian media reported then prime minister Ismail Sabri Yaakob as saying that Malaysia will continue to support the initiative. 
The forum, touted as Asia's version of the Davos World Economic Forum, was attended by business and world leaders, including Singapore's Prime Minister Lee Hsien Loong.
This year, the forum is themed "An Uncertain World: Solidarity and Cooperation for Development and Challenges".
In his speech on Thursday, Mr Anwar also said that in the technological space, collaboration should take precedence over competition.
He said this is because such rivalry to get ahead could take either a "productive or destructive turn", as demonstrated by the competition in the semiconductor industry. 
"Let me reiterate that unfettered competition must give way to spirited collaboration," he was quoted as saying by Bernama. 
Mr Anwar stressed that "certain guardrails" need to be established to ensure that competition does not lead to a bifurcation in the technological world as it would only raise costs and impede progress.
Technological competition, he said, should be one of the principal agenda items for discussion at the highest levels, on par with discourses on security and general economic matters.