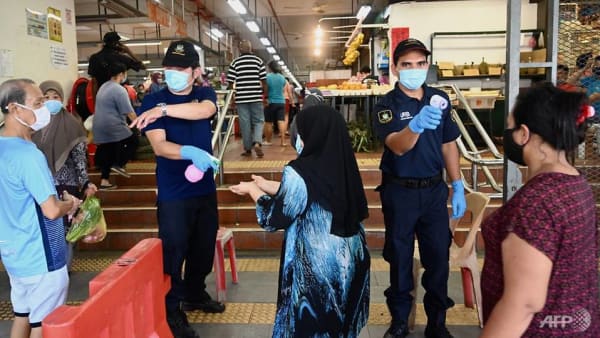 BARBERS, WET MARKETS ALLOWED TO OPERATE IN AREAS UNDER PHASE 1 
For areas under phase 1 of Malaysia's national recovery plan, Mr Muhyiddin announced that 11 types of economic activities will be allowed to resume operations. 
The affected areas are Selangor, Kuala Lumpur, Putrajaya, Kedah, Negeri Sembilan, Melaka and Johor.
The permitted activities are car washes, electronic stores, stores selling home goods and kitchen equipment, furniture stores, stores selling sporting equipment, car accessories stores, car distribution and sales centres, wet markets and farmers' markets, clothing and fashion stores, jewellery stores as well as barbers and hair salons. 
However, Mr Muhyiddin stressed that for clothing and fashion stores, jewellery outlets as well as barbers and hair salons, vendors must adhere to additional measures such as wearing gloves and not permitting the use of fitting rooms.
Owners of companies listed in these 11 business categories must also ensure that customers who enter the premises show a COVID-19 digital vaccination certificate to prove that they are fully vaccinated.
For the states of Kelantan, Pahang, Terengganu, Sabah, Perak and Penang, which are under phase 2, the government has also agreed to allow economic activities to resume operations from Monday. 
These activities are "in addition to the 11 economic activities allowed to resume in phase 1", he said. 
The economic activities comprise shops selling photography goods and providing photography services, second-hand stores, florists and nurseries, handicraft and souvenir shops, antique shops and toy stores.
Stores selling "creative content" and "creative industry equipment" as well as outlets selling outdoor goods, cosmetics and perfumes, carpets, and tobacco products, including vape and electronic cigarettes, have also been given the green light to resume operations. 
Owners of these premises must also ensure that customers show proof that they have been fully vaccinated.
MANUFACTURING, CONSTRUCTION, MINING, QUARRYING SECTORS TO RESUME 
Mr Muhyiddin added that the government will also allow activities to resume in the manufacturing, construction, mining and quarrying sectors from Monday across areas in Phases 1, 2 and 3. 
He emphasised that the operating capacities will be dependent on the complete vaccination rate of the workers in these facilities.