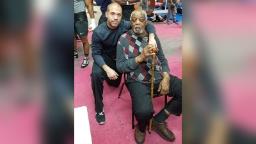 He was 89.
Glenn was hospitalized at NYU Langone Medical Center in April after suffering Covid-19 related symptoms and tested positive shortly after being admitted, his son Adam Glenn said.
The former boxer and corner man was originally from South Carolina but spent most of his life in New York City. He began his boxing career as part of the Police Athletic League and later competed in The Golden Gloves for two years, according to the New Jersey Boxing Hall of Fame.
Glenn left behind amateur boxing and went on to become a trainer, manager and cut man. In the 1970s, Glenn worked as a cornerman for heavyweight great Floyd Patterson and trained numerous boxers.
He operated the now shuttered Times Square Gym for 18 years, working with fighters who considered him family.
"I would have these people coming up to me saying, you don't know what your dad did for me to help me, to get me off the streets," said Adam Glenn, 39. "He could look into anyone and make you feel like he could be your best self."
More recently, Glenn was a fixture at Jimmy's Corner, the dive bar he owned in Times Square.
The bar is an homage to boxing and a favorite for those looking for beer and whiskey at reasonable prices in the area.
For nearly five decades, Glenn would walk around the bar and often swapped fighting tales with his customers. He met his wife there when she was a bartender and later they decided to become the bar's owners, their son said.
The bar is considered a New York City staple. It's covered from wall to wall with boxing posters, newspaper clippings, boxing gloves and even a Madison Square Garden ringside bell.
When Glenn's wife died, his son quit his job as a lawyer and joined him to run Jimmy's Corner.
"I grew up in that bar, I have worked there since I was old enough to push or carry anything," Adam Glenn said. "The bar was always as much my home as my parents' home was."
In his final hours, Glenn was able to talk to his son one last time.
"He and I got to talk, he told me he loved me," Adam Glenn said of his father.
Doctors did not tell Glenn's son that his father's death was directly caused by Covid-19, he says, but they told him that fighting the virus had weakened his body.
Glenn was remembered by the boxing community in the United States and around the world.
"A legend of boxing has heard his final bell," Mauricio Sulaiman, president of the World Boxing Council, tweeted about Glenn's death on Thursday.
Boxing promoter Lou DiBella said Glenn was an "icon and a legend" in New York City.
"Jimmy was an icon and a legend in #NYC, not because he was a giant in #boxing or because he owned an incredible pub, but because his heart was giving, pure and boundless. There are literally COUNTLESS people that Jimmy touched who are grieving right now…," DiBella tweeted.