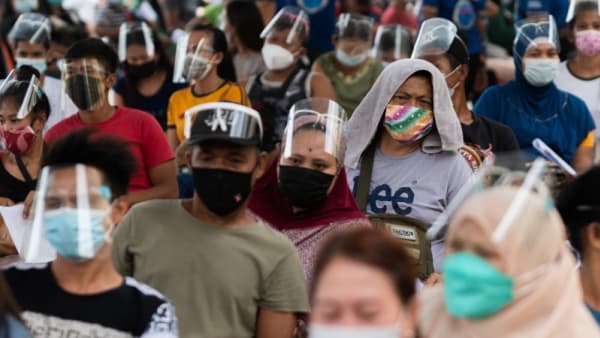 WE HAVE TO TALK ABOUT SUICIDE
The trouble is this image of tough-guy stoicism that Filipinos have in getting through this pandemic.
On the one hand, the harsh treatment of suicide as a taboo subject have had a deterrent effect and serves a practical purpose. 
On the other hand, the longstanding stigma surrounding any talk of suicide can be counter-productive at a time when the country has sought to embrace mental health, with a law passed in 2018 sought to tackle discrimination against mental health patients.
Filipino society tends to wave off mental health challenges, seeing these as a sign of insufficient religious faith. But these repeated lockdowns suggest more tender care is needed when people open up to reveal their vulnerabilities. 
While we do not want to put the thought of suicide in people's head, psychologists say it's worth asking those in crisis if they have thought about it, giving them an opening to speak more frankly about their challenges.
Ms Lao tells me some signs of whether people are on the edge include feelings of hopelessness, loneliness, a desire to distance themselves from others, and sometimes a change in eating and sleeping habits. 
The Philippines may be in a rut for a while, with open-shut lockdowns to contain the surge in infections inevitable in the months ahead.
Only 11.4 million Filipinos have been fully vaccinated (just over 10 per cent of its population). The country aims to vaccinate another 58 million people by the end of the year, even opening vaccination centres 24 hours a day to speed up inoculation rates. Officials have secured 164 million vaccines for 2021 and over 28 million have been delivered.
While the country undergoes lockdown over these two weeks, doctors and psychiatrists suggest getting in touch with family or friends through text messaging, phone calls, or online chat to help prevent suicidal cases.
 
Jeff Bansigan is a journalist based in Manila.
 
If you're in the Philippines and need mental health support, please call the National Center for Mental Health hotlines at 0917-899-USAP (8727) or 899-USAP (8727); or the Mind Matters hotline at 0918-942-4864.