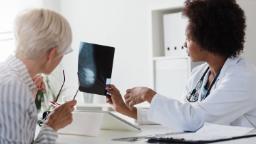 CNN
 — 
Millions of people across the United States missed routine cancer screenings during the second year of the Covid-19 pandemic, with the prevalence of screening for breast, cervical and prostate cancers in the previous year falling anywhere from 6% to 15% between 2019 and 2021, according to a new study from the American Cancer Society.
"We were thinking there would be a rebound in late 2020," said Dr. William Dahut, chief scientific officer of the American Cancer Society. "We were surprised to see the continued increase in the number of folks not getting their screenings."
But more recently, it appears that people are starting to return to routine screenings at rates seen before the pandemic, separate research suggests.
Rates of screening for breast, cervical and colon cancers may have returned to normal, according to more recent data published last week in the journal Epic Research, which is owned by the health care software company Epic.
"As screening rates returned to normal from the drop we previously reported, rates of cancer diagnosis returned to normal as well," Dr. Chris Alban, a clinical informaticist at Epic Research, wrote in an email.
"We haven't seen evidence that the screenings missed during the pandemic resulted in worsened patient outcomes, though we plan to monitor this trend to see whether it holds over time," he said. "The recommended intervals between screenings for a given cancer can be several years, so evidence of advanced cancers can take a long time to appear."
Due to the declines in cancer screenings as well as barriers to accessing treatment in the early days of the pandemic, not only did physicians nationwide worry that screening and treatment delays led to patients arriving at their offices with advanced cancer, some anecdotally reported seeing upticks in advanced cancers at the time.
The prevalence of screening for breast, cervical and prostate cancers did not return to pre-pandemic levels in 2021, the second year of the Covid-19 pandemic, according to the American Cancer Society's new study, published Thursday in the Journal of Clinical Oncology.
The study included data on more than 60,000 adults in the United States who were eligible for screening for breast, cervical, prostate and colorectal cancers between 2019 and 2021. The data came from the US Centers for Disease Control and Prevention's National Health Interview Survey.
The researchers found that between 2019 and 2021, the overall prevalence of eligible adults who completed screening in the previous year fell 6% for breast cancer, 15% for cervical cancer and 10% for prostate cancer. That means there were about 1 million fewer people who got screened for breast cancer, 4.4 million fewer screened for cervical cancer and about 700,000 fewer screened for prostate cancer.
"These declines have significant public health implications as they are expected to lead to more advanced stage cancer diagnosis in the future," the researchers wrote.
The prevalence of screening for colorectal cancer was unchanged, the researchers found.
The growing popularity of at-home colon cancer screening tests probably offset any decline in colorectal cancer screenings, they wrote.
The researchers also found some racial differences, as the Asian community had the largest declines in breast, cervical and prostate cancer screenings.
"These findings are especially concerning as cancer is the leading cause of death in both Asian American men and women," wrote the researchers, all from the American Cancer Society.
Dahut said that anyone who missed a routine cancer screening during the early days of the pandemic should catch up now.
"Even in the best of times, the number of folks who are screened is far too low," he said. "Go ahead and follow the guidelines, get screened when appropriate, and the outcomes will be better."
The Epic Research study involved data on 373,574 cancer diagnoses entered in patients' charts in the US between January 2018 and December 2022.
The data came from 190 health care organizations that use software from Epic for their electronic health records. Together, these organizations represent 1,123 hospitals and more than 22,500 clinics, and they agreed to contribute to the de-identified data set, meaning no individual patient can be identified within the data.
The data showed a clear decrease in cancer cases early in the pandemic, which correlates with a decline in screening, but screening rates appeared to return to normal last year, as did cancer detection rates. The data also did not appear to show a significant rise in new diagnoses of advanced cancers through the end of last year.
It's "good news" that the data demonstrate a return to pre-Covid rates of cancer screening, Dr. Arif Kamal, the American Cancer Society's chief patient officer – who was not involved in the Epic Research study – wrote in an email. He called the new data intriguing but emphasized that more time is needed to determine whether or when rates of advanced cancers may increase due to missed screenings. It could take years.
"Conclusions regarding whether advanced cancer rates have increased due to missed screenings are a bit premature to reach. This is because cancer takes years to develop, and the resulting effect of missed cancers cannot be known after only a few years," Kamal said.
"We remain hopeful that as cancer screening rates have returned to baseline, that the two years of missed screenings will not have a long-lasting effect on cancer incident or mortality," he said. "But more time will tell."
The data from Epic Research's study is encouraging, as it suggests that more advanced cancers are not being seen, Dr. David Cohn, chief medical officer for the Ohio State University Comprehensive Cancer Center, wrote in an email.
"Whether this holds up over the next few years is yet to be seen," he added.
Cohn, a practicing gynecologic oncologist who was not involved in either new study, said that he is "always concerned" about a decrease in screening rates and the resulting impact on later cancer diagnoses.
Yet "these data suggest that folks are getting back to the core business of screening," he said, "such that these data will hopefully hold up over the next few years without seeing an increase in later diagnoses."