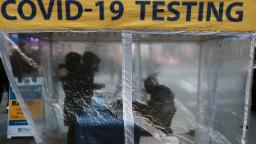 CNN
 — 
The Biden administration is planning to roll out a roadmap as early as Thursday on what it will mean for the country when the Covid-19 public health emergency comes to an end later this year, according to a source familiar with the forthcoming announcement.
The administration is supposed to come out soon with more details around the ending of the public health emergency declaration, another source close to the administration's discussions told CNN.
It will be for "the partners that have supported the response," the source said.
The White House announced last week that President Joe Biden intends to end the Covid-19 national and public health emergencies on May 11 – a decision that signals that the administration believes the Covid-19 pandemic is now squarely in a different stage than it has been over the past few years.
The goal of the expected roadmap, one source said, is to try to lay out for the public in a clear way what the end of the declaration "does and does not mean," including for various stakeholders like state health departments and Medicare and Medicaid beneficiaries.
In Biden's State of the Union address Tuesday night, he said that the United States has "broken Covid's grip" on the nation.
"Let's also recognize how far we've come in the fight against the pandemic itself," the President said. "While the virus is not gone, thanks to the resilience of the American people, we have broken Covid's grip on us. Covid deaths are down nearly 90%. We've saved millions of lives and opened our country back up. And soon we'll end the public health emergency."